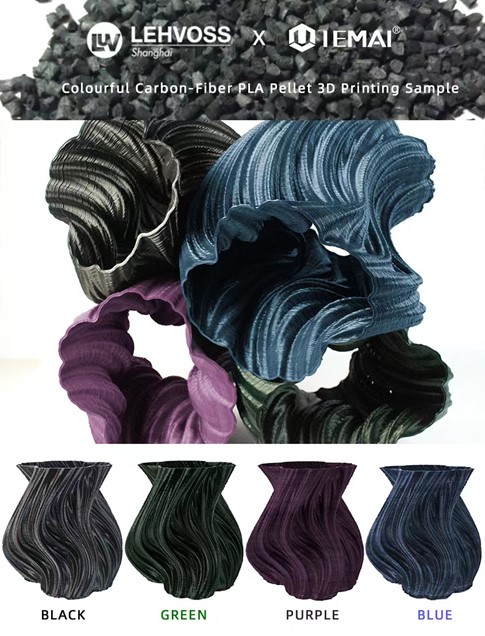 LEHVOSS Masterbatch Product Introduction:
LUVOBATCH® 3F PLA CF 5855 is a tailored masterbatch for extrusion-based 3D printing. It contains 40% carbon fibers dispersed in a proprietary PLA resin. End users can add specific dosage of LUVOBATCH® 3F PLA CF 5855 in PLA resin to achieve higher strength, stiffness and fine matte surface.
LUVOBATCH® 3F PLA CF 5855 is made of selected carbon fibers with a specific aspect ratio. The carbon fiber is modified by surface coating technology to provide an excellent dye coloring ability. The performance of FGF (Fused Granulate Fabrication) printing with LUVOBATCH® 3F PLA CF 5855 is outstanding, end user can get finished parts with high quality. This is an innovation for 3D printing technology, increasing the possibilities for using PLA in technical applications.
IEMAI Granular 3D Printer Introduction
This large size pellet printer has a print size of up to 1500*1500*1500 mm, and has a very high printing speed, which can print 6 kg per hour. For 3D printing of composite thermoplastic materials, this machine will be much faster and at lower cost. And the MAX extrusion temperature can reach 500℃, which supports printing PLA/PLA-CF/ABS/TPU/PETG/PC/PP/PA/ABS and other materials. The hot bed temperature is 200℃. With liquid cooled single screw system and three temperature regions.
Printing Parameter
Copper nozzles are easy to wear when printing carbon fiber pellet materials. Therefore it is recommended to use wear-resistant nozzles (such as hardened steel) with this material.
Before printing, mix the 5855 masterbatch and PLA pellets according to the ratio, put them into the hopper and set the temperature at 50-60°C to dry for 8-10 hours to ensure the final quality of the printed product.
When printing this dyeable carbon fiber pellet PLA material, 3 zones are used for heating, the feed end is 160°C, the middle section is 220°C, and the extrusion end is 180°C.
About IEMAI
IEMAI Intelligent Technology Co., Ltd is a high-tech enterprise in China focusing on 3D printing R&D and production. Its brand IEMAI 3D is a global industrial grade 3D printer brand, committed to provide users with the "All in one" 3D printing solution of multi material compatible issue. IEMAI 3D supports most of the thermoplastic materials in the 3D printing markets and assist the user to resolve the issue encounter during manufacturing, and all 3D printers and materials have achieved CE and ROHS certification. We attach great importance to brand building and have obtained trademarks certificates from China, United Sates and the European Union. We pursue core technology research and development, and have obtained software copyrights, invention patents, utility model patents, appearance design patents, and the title of national high-tech enterprise. At present, our 3D printing solutions have been applied to aerospace, automotive, petrochemical, medical and electronics manufacturing.
Contact person:
LEHVOSS (Shanghai) Chemical Co.,Ltd
Sunny Sun
Unit 4805, No. 8 Xingyi Road, Shanghai 200336 China
Tel.: +86 21 6278 5129
E-mail: info@lehvoss.cn